Many months ago Missy made a trip to Kansas to visit Meredith…we told you we were working on something very exciting, but left your minds to wonder about our secret.  Today Couture Cowgirl will walk the runway at Cody High Style, and we feel this is a perfect day to debut our secret!
Presenting "Couture Cowgirl" perfume!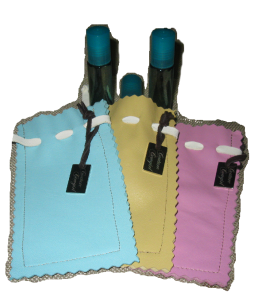 Couture Cowgirl's new signature release is a whimsical and enticing mix of  fruit, berry and citrus rain. A trace of  leather leaves a distinct impression.  This blend is the answer to those seeking a contemporary and crisp blend designed for all seasons.
We are very excited about another aspect of our perfume, we opted to do a roll on versus the spray perfume.  Adelia Ganson explains, "Couture Cowgirl" contains no alcohol, so it doesn't evaporate like many perfumes.  In scents that contain alcohol, many times the main emphasis of the scent is on the first spray, and the resulting few minutes of scent. Alcohol-based scents evaporate quickly due to high alcohol content, which causes the scent to lose effect very quickly, sometimes in just a few minutes.  Alcohol is also a common allergan and respiratory irritant, though many people don't know this.  Many times people who think they are allergic to scent are actually allergic to the alcohol in the products they are spraying.   "Couture Cowgirl" contain no alcohol and is designed to last for several hours, so it will change over time on each person's skin.  This allows for layering of scent that simply isn't possible with alcohol-based scents. 
Each roll on bottle of "Couture Cowgirl"  will come in a handmade leather bag with a signature Couture Cowgirl tag!
Get yours today at http://www.couturecowgirl.com/wp/shopping
A Couture Cowgirl is YOU, Proclaim it Proudly!  And with Style, of course…
Meredith & Missy