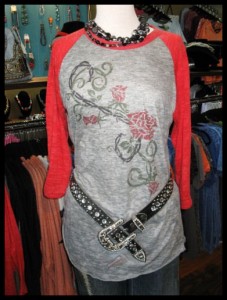 XS, Small, Medium, Large, XL




One of the softest shirts you will ever wear! It is a tri-blend burnout made with 50% polyester, 32% cotton, and 18% rayon. Features original Rose Tattoo artwork by our very own, Meredith Lockhart! Accented with Vintage Red raglan sleeves and AB Swarovski Crystals!
$65.00
You voted! We got them! You will shine wearing this pink crystal Double CC Logo top by Couture Cowgirl. The crystals adorn a short sleeve black crew neck burnout. This top is Women sizing, small-2XL! (Also available with a clear crystal logo, at time of purchase specify you prefer clear crystals.)
$55.00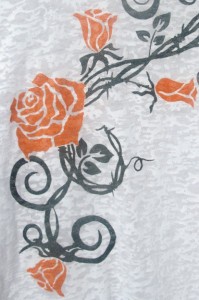 This is our first release for Spring and Summer here at Couture Cowgirl! The colors are bright and vibrant and just make you feel good. The artwork is nothing short of spectacular and is hand drawn by our very own Meredith Lockhart. The back tattoo image adds a fun twist. Pair it with our Orange handkerchief hem skirt for a fun night out with the girls.  Couture Cowgirl's love to ride (four legged and iron)…pictured is Couture Cowgirl, Missy's, Cobalt Blue Iron Horse and Pigwolf's Pig. 
Powered by Cincopa Media Platform for your website and Cincopa MediaSend for file transfer.

Shop this new arrival and our entire Couture Cowgirl line HERE
A Couture Cowgirl is YOU, Proclaim it Proudly!  And with Style, of course…

PINK by Couture Cowgirl featuring python boots
Couture Cowgirl changed their avatar on Facebook and Twitter to pink letters on black for the month of October, in honor of Breast Cancer Awarness.  We had countless request for a CC tee in the same color.  Then we took a poll on facebook and twitter, and you voted for a black burnout, shortsleeve, with a pink CC logo!
Couture Cowgirl's, IT'S HERE!  The short sleeve crewneck burnout is adorned with a pink crystal Double CC logo!
We wanted to put together a look for you, so be sure to look for the belt from Thistles West, Jewels from Silver Steer Designs, and Boots from our good friends, STETSON!  Of course you can get Couture Cowgirl Apparel right HERE!
THINK PINK!
Click on any of the pics in the above photo collage and it will take you to the purchase page for the item, or email us at info@couturecowgirl.com for any additional information!
A Couture Cowgirl is YOU, Proclaim it Proudly!  And with Style, of course…
Meredith & Missy
The foundation of Couture Cowgirl has always been more than a brand, it is the STATE OF MIND that defines each and every one of us.  For fall we have introduced a really fun burnout that we dip dyed in one of the hottest colors of the season.  It features the words STATE OF MIND in purple. 
 The background is "A Couture Cowgirl is the girl next door that can drive a tractor, fix a five course meal, watch a baby and still be stylin'. She's the executive who dreams of wide open spaces. She's the commuter that would rather be on a horse than the freeway. She loves fashion, she loves the ranch. She is the one who is all woman and can do a man's job if she needs to. A Couture Cowgirl knows when to walk, when to trot and when to close the gate. She is the it girl, she fixes the fence on the way to town and still looks like a million bucks at dinner." in silver ink. 
The back left hand shoulder has our Double CC logo and the last line "A Couture Cowgirl is You, Proclaim it Proudly!  And with Style, of course…
Jeans to a skirt and this burnout can take you from Ranch to Runway!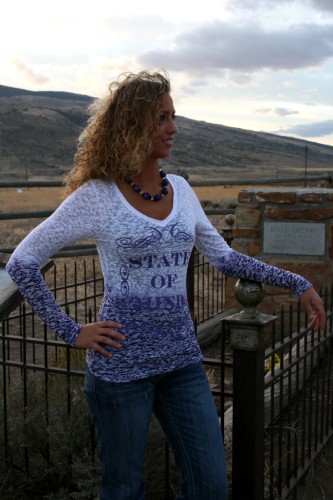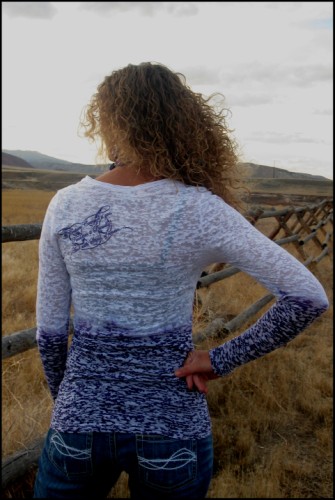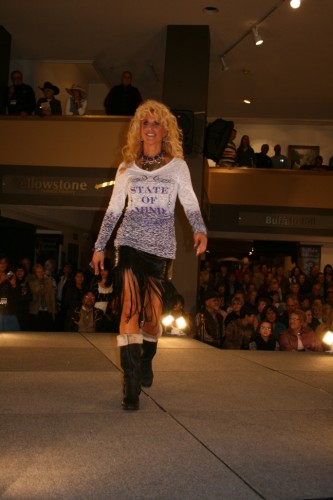 Purple Dip Dyed Top by Couture Cowgirl
Black Boots by STETSON
Black Fringed Skirt by Thistles West
Purple Necklace by Silver Steer Designs
A Couture Cowgirl is YOU, Proclaim it Proudly!  And with Style, of course…
Meredith & Missy