We had a great time reading the post from our most recent contest about what makes you a ~COUTURE COWGIRL~ on facebook!  Just in case any of you are not on facebook we would love to share our winning entries with you!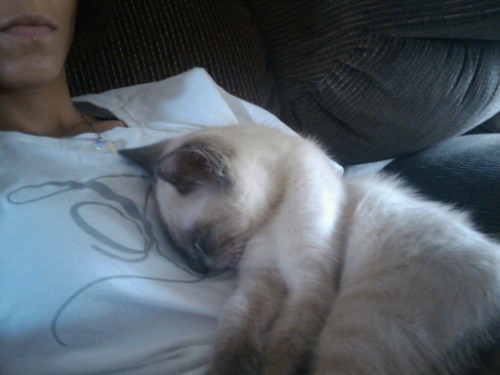 Photo from Ms-Jenn Parrella with her cat Moonshine and her CC logo Top!
First Place-
My daughter is a couture cowgirl! She just went on her senior trip and through her graduation ceremony with her cowboy boots on!!! The only one of 120 seniors to proudly wear cowboy boots under that graduation robe! And it was because her fellow school mates love her independence to be a "couture cowgirl"!!!
Second Place-
I am couture cowgirl because i always ready to get down a dirty, I dont mind dressing up one day then jumping in the mud the next. I am happy girl who knows when you got your boots on no one thinks twice of crossing you.
Third Place
Hi Couture Cowgirl~
I'm a Couture Cowgirl because even though I can out-ride, out-shoot, and out-work the men when working cattle I can still clean up and be all girl.
Not many girls can say this, but who else other than a Couture Cowgirl can sport alfalfa in their hair and get away with it? I was all ready for prom when an after hour…s customer showed up and needed a truck load of hay and of course I was the only one around to do it so I changed back into my working clothes loaded up the ton of hay he needed, sent him on his way,picked out as much alfalfa as I could, got back in my dress and headed off to prom !!! Yeah I'm a Couture Cowgirl !!!!
Fourth Place
Lauralee
I am a couture cowgirl at heart. I live in Florida – near the beach, nowhere near a farm – and yet I know that being a couture cowgirl is more about WHO you are, not where you are ♥
Fifth Place
I am a Couture Cowgirl because I design my own style! Whether modifying my thrift store finds, or pairing a rock and roll look with my cowgirl boots, I have my own style… just ask my friends who always want to raid my closet!
Thanks again to everyone who participated and congratulations to the winners!  We are getting ready to kick off another contest so be sure to check back often!
A Couture Cowgirl is YOU, Proclaim it Proudly!  And with Style of course…